Dyeing Machine Controller:

Automation definition of controllers for dyeing machine are equipped with advanced operating system for industrial automation. These controllers use programming language which results in the reduced process time. The panels of these controllers have separate inverter, choke, spacious panel and several excellent features of automated systems. However for safety purposes, these controllers  is installed with automation technology  and equipped with limit switches, separate pressure switches, air inlet pressure failure alarm. Dyeing Machine Controller is used in all dyeing machine like Jet Dyeing Machine, Jigger Dyeing Machine etc
Functions of Dyeing Machine Controller:
The functions of dyeing machine controller is given here –
A modern and latest controller is designed based at Windows operating system.
Size of colour display 12" TFT and 800×600 pixels, touch screen and internal PLC system
World wide accepted standard field and bus for the connection of automation components e.g. remote PLC I/O boards.
This standard controller is suitable for machine against any computer virus and trojans.
It offers a window based user interface and icons for a simple functions.
It provide animated multi screens process overview.
It provide large graphical user interface with user friendly and simple  operation and provide touch screen buttons for manual control of the system
Features of Controller Developed by Automation Engineer:
The features of Industrial Automation o dyeing machine controller is stated here-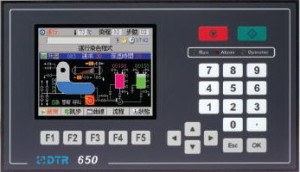 Touch screen for dyeing controllers for industrial automation
Reduce process time by  automated systems
Language support and programmed by automation engineer
Automated systems
Internet access for automation system
USB port works as automation technology
Automation technology
Ethernet port for automation systems
Dyeing programs storage for automated systems
Can integrate with chemical dispensing by automation engineer
Exact temperature gradient control by automation engineer
Programmable automated dosing for dyes & chemicals for automation engineer
Control of differential pressure
Seam detector
Jet washing system available in automated systems
Spacious panel for easy working
Electrical accessories standard
Separate pressure switches for overpressure alarm
Air inlet pressure failure alarm
Stand by extra temperature controller in automated systems
Centralized Programmable Automation Controller:
To provide an optimal overview of computer generated programmable automation controller is divided in different areas/panes:
Menubar: From there you can close the Program, get information about Info word's and bits and Help.
Toolbar: Select one of the Icon's to Start, Stop or Halt the controller
Controller Status: In the Controller status pane information's about the actual batch status of the controller is displayed.
Batch Information: In this area information about the actual running batch is displayed.
Program Information: The pane with the program information has two different views:
Event Window: For debug information this window is used.
Controller Status:
In the Controller status pane information's about the actual batch status of the controller is displayed.
Machine: First select the machine that should be operated with CONTROLLER INTERVENTION. Click on the arrow icon of the drop-down field and select a machine from the list.
Controller Type: Information's about the used controller type is displayed here. The displayed controller type corresponds to the controller definition, set in the SedoMaster ONFIGURATION.
Batch: The batch number which was assigned during batch planning is displayed here.
Production No. The production number which was assigned from SedoMaster is displayed here.
Controller State: Possible Controller states:
Program Stopped
Program Started
Program Halted
Program Continue
Program Question
Program End
Batch Status: Possible batch status-
Batch Empty
Batch Loaded
Batch Started
Batch Finished
Batch Aborted
Batch Interrupted
Batch Information of Batch Controller:
In this area information about the actual running batch controller is displayed.There are five property sheets with batch information of batch controller. Click on the corresponding tab of a property sheet to display the information.
Text + Add. Text: Each 10 batch texts, as well as the batch color, which was defined during the planning is displayed per property sheet.
Start and Stop a Machine:
To start or stop a controller (machine), there are two ways:
[1]Use the icons from the toolbar:
Starts the controller
Stops the controller
[2]Or click in the window Steps with the right mouse button and select the option Start or Stop from the shortcut menu. Or If the machine was started, the icon in the status of the controller changes from STOP to RUN
Calculated Additions From a Recipe System:
In case a recipe system is connected to SedoMaster it is possible that information from recipe system can be utilized for the addition that should be used, e.g. which additional program should be used. Also treatment parameter which are used in additional treatments can be calculated by the recipe system. If an addition was calculated by the recipe system, this information is transferred to the SedoMaster System. If a recipe system is connected, this dialog box has an additional button OK (showing two test tubes as icon), showing that for this batch an addition was calculated from the recipe system. Do not select an addition from the dialog box but click on the button OK. In case, all parameter values are already filled in, you can send the addition to the controller by clicking on OK. In the example above only the first treatment parameter were filled in by the recipe system. But the Temperature parameter must be defined manually.
Double-click on the unknown parameter value. A dialog box Parameter Value is displayed. Define the value for the treatment parameter This way, a maximum of 10 additions can be loaded in the controller. The additions are only valid for this batch and the changes do not infl uence the treatments and processes which are defined in the SedoMaster EDITOR.
Note: If a addition is sent once more (this means the same additional treatment) the addition already loaded in the controller is not deleted or overwritten. When selecting a addition in a sample step, the same addition is displayed two times.
Set Machine to Halt is Automation Jobs:
To halt a machine is automation jobs that is different from to stop a machine. The difference between halt and stop is, that for a stop all active functions are switched off. For a halt all active functions which are processed at the moment are still running further. After the set values for the functions are reached, the function is finished, but he next function is not started. In case the function is a circulation function, the previously set temperature is kept to maintain the automation jobs.
Engr. Kh. Mashiur Rahman
, Garments Auto Machine Technologist, Web: www.autogarment.com, Email: autogarments@gmail.com, Cell: +88 01 792 52 53 54