Glove Knitting Machine for Mittens :
Mittens are made by this knitting machine which  is special type of knitting machine for producing gloves. It built by loops of yarn which connects them into various knits to produce crochet fingerless gloves. Labour protection gloves, hand gloves, magic gloves and finger gloves can be produced by this machine. There are different types of Knitting Machine is manufactured by knitting machine company[1]
How to Knit Fingerless Gloves by Computerized Glove Knitting Machine :
It is made up with good quality material as well as beautiful processing technology  which is collocated by components of computer box. Computerized knitting machine can knit half finger glove , crochet fingerless gloves, fingerless gloves pattern, full finger type glove, labor protection glove, ingot finger glove, hand gloves, winter fashion gloves.[2]
Specifications of Glove Knitting Machine for Finger Gloves:
| | |
| --- | --- |
| [label type="label" title="Specifications Name"] | [label type="label" title="Specifications Value"] |
| Product Category | Knitting |
| Machine Category | Gloves Knitting Machine |
| Product Name | Finger gloves Knitting Machine |
| Product Model | According to Manufacturer |
| Product Class | New |
| Origin | China/India/Others |
| Brand/Manufacturer | Name of Manufacturer |
| Agent in Bangladesh | No/Yes |
| Power | single-phase or three-phase:220v,250w, 50/60HZ |
| Temperature | Normal |
| Certification | SGS/Others |
| Production Capacity | NA |
| Size | L:46  L:52  L:63  L:89 |
| Speed | finger:200r/m, palm:180r/m |
| Driving System | Crank Drive |
| Knitting System | Snikers knitting theory |
| Abnormity Stop | Broken yarn,poor dropping,overloading |
| Screen Display | Digital Diaplay |
| Dimension | 1230X650X1750mm |
| Weight | 250kg |
| Description | Used for half-finger, all finger, finger gloves, silver ingots and simple jacquard weave gloves |
[1]
Feature of Glove Knitting M/C for Hand Gloves:
Feature of Computerized Glove Knitting Machine is given below-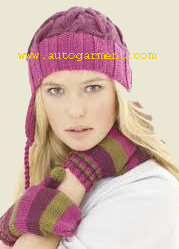 Function is convenient , high controlled rate, and low labor power
Computer control system for fingerless gloves pattern,
Computer control system for hand gloves pattern
Generally assume frequency conversion wiht running smoothly.
Central lubricating system of knitting terms for fingerless gloves pattern
Fingerless gloves pattern is created by this machine
Crochet fingerless gloves are created by this machine
This machine manual show how to knit fingerless gloves
Whole procedure is organized by computer and can design the size of the hand gloves
Automatic stop device of miscount , thread break, overload, all of these can reducing the knitting damage.
Should adopts micro computer contact screen to control [2]
 [1] 
Obaidur Rahman
, BSc. In Textile Engineering, Bangabandhu Textile Engineering College, Tangail  [2] 
Rajib Saha
, Shyamoli Ideal Textile Engineering college, shrajib6@gmail.com